DAIGON Esports Ltd – Gold Sponsor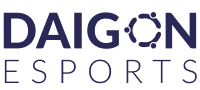 The mission of Daigon Esports is to promote the growth of Esports in international schools through the establishment of after-school gaming clubs and competitive Esports competitions.
We want to provide the millions of students in international schools across the globe with the opportunity to participate in structured amateur Esports.
Esports provides an incredible and inclusive opportunity for international schools to promote the global exposure of their students and reinforce international competitions without the expensive and time-intensive traveling.
David Higginson
CRO and Co-Founder
DAIGON Esports Ltd