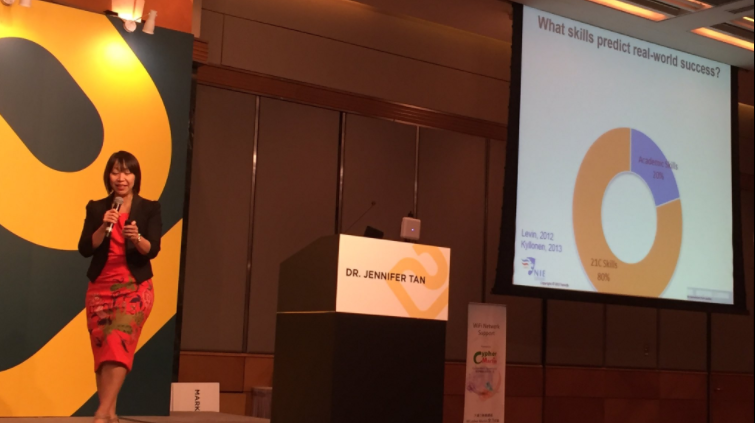 3 Lessons from Jennifer Tan at 21CLHK: When 21st-Century Skills Become Visible
This is post by Ritchie Wong a final year education student in Hong Kong about his experience at 21CLHK.
One big question educators always ask about the ever-growing role of 21st-century skills: "How can I identify, develop and assess vague soft skills – like creativity, and collaboration?' Thanks to Ms. Tan, at least, we have one clue – make these skills visible, and evidence-based. She illustrated how this can work in K12 education, by sharing her on-going experiments to develop students in Singapore with creativeness and collaborative-ness through dialogic evidence.  Below are the three lessons learnt.
1. To Change Education Is To Change the Rubrics
Clearly inspired by the idea of backward design, the 21st-century-skill framework proposed by Dr. Tan starts commenced with explicitly defining indicators of success in creativity, and collaboration—in her case, the exemplar dialogues generated by students. She added: not only should positive indicators be listed out in the rubrics, but also the negative ones—though things get more subjective here. When every stakeholder shares the understanding of what and how the learning of these skills can and should be demonstrated, this synchronised transparency can lead to a higher likeliness of the development of these skills.
2. Don't Over-Script the Learning Experience for Students
https://www.21clconf.org/wp-content/uploads/2017/04/image-1-1.png
568
755
Ritchie Wong
https://www.21clconf.org/wp-content/uploads/2022/10/21CL.png
Ritchie Wong
2017-04-06 07:43:24
2021-06-02 21:05:04
3 Lessons from Jennifer Tan at 21CLHK: When 21st-Century Skills Become Visible